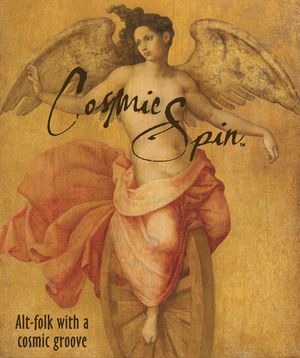 The angel greeting you on this website is Fortuna, the ancient Roman goddess of fortune and personification of good luck.  She's riding the Wheel of Fortune and heading out for a cosmic spin. 
Since 2010, Cosmic Spin has performed at cool Bay Area venues and special events. But in 2019, Robert and Bara holed up in the recording studio. They fired up the mixer and effects, and laid down some heavenly harmonies and deep grooves on your favorite cover songs from the Cosmic Spin repertoire.  

The result is the 6-song EP called Gilding Lilies, and the single Tougher Than The Rest, both available now on Spotify, Apple Music and other streaming services.
Click HERE now to hear the single

Celebrate good fortune and join the Cosmic Spin mailing list to make sure you hear about all the latest sonic adventures.
We started in 2006, serving musical "soulfood"...
Tasty tunes...
...at venues all over Orange County...
...for wonderful causes.
"Like" us on Facebook by clicking below...