Groovy Electric Folk 
for genre benders
Chart-Topping Alternative Folk Duo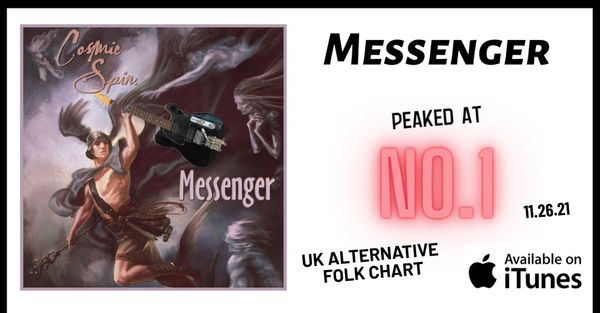 Soulful harmonies. Layered guitars. Deep grooves.
 
"Cosmic Spin's Gilding Lilies is an AMAZING record. The sound, the vibe, the playing. It's totally different than all the mechanical stuff being done these days. So organic...so live...love it."   
                                                        — Enrico De Paoli, multi-Grammy-winning music engineer (Ray Charles, Al Jarreau, Aaron Neville)
"Cosmic Spin's unique twists and unconventional reimagining of classic songs is both refreshingly inventive and a welcome feast for the famished ear. Great grooves and rich harmonies frame their folky, soulful, retro-modern and psychedelic-hipster blending of genres and styles. Their Gilding Lilies EP is a true pleasure for anyone's groovy-vibe playlist."    
                                                        — Dean Krippaehne, gold and platinum songwriter/film composer (All Screen Music)
 
"Cosmic Spin delightfully tweaks the concept of a folky duo, masterfully rearranging hits into lush, soulful, fun and psychedelic escapades."   
                                                         — Sheldon Norberg, Lumen
"Cosmic Spin's music is like nothing you will hear anywhere else. If you love harmonies - their sound is elegant and rich. On Gilding Lilies, they cover classic songs with their unique twist. Highly recommend to anyone wanting to expand their music library with timeless music you will want to listen to over and over."   — Michele Riley, Phoenix, AZ (more fan comments below)
Upcoming Southern California Show
Cosmic Spin's original #1 song — Messenger
Available today — click image to Hear Now
"Hitting the charts with an original composition titled Messenger, Cosmic Spin incorporates a texturized groove that opts out of the robotic formula in today's genres. The refreshing sound caresses the heart and soul of those who tap in. Messenger tells a tale, spreads themes of acceptance, and ultimately funnels an outpouring of thoughts and emotions. It's a buffet that nourishes any ear willing to listen."    
                                                        — BuzzMusic.com
Time of the Season Single 
The Zombies' classic takes a Cosmic Spin — Click image to Hear Now
Gilding Lilies EP 
Classic Songs, Reimagined — Click image to Hear Now
"Like" us on Facebook by clicking below...