Thanks to booking agent Natasha Miller and her staff at
Entire Productions
,
Soulfolk
performed a free outdoor concert at Oakland's City Center this Wednesday.  Hundreds of people enjoyed this magical, musical "lunch-hour enhancement"!
Soulfolk regulars Robert Cassard, Bara Waters and Eli Cassard got the audience moving. Paul Manfrini made the trek from Laguna Beach to sing the high harmonies and add tasty guitar to the mix.  Soulfolk's harmony-heavy sounds were also graced with the supreme bass skills and funky bottom end of Marc Levine. Truly amazing.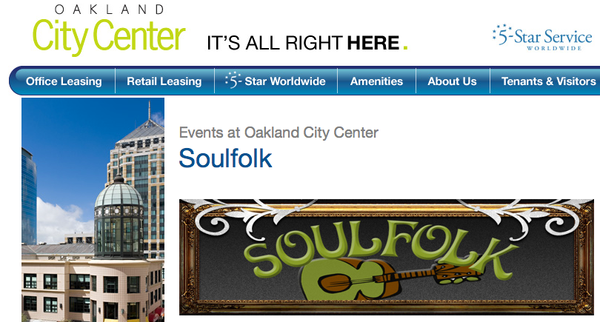 Not only was the day beautiful and warm and sunny, but we managed to heat up the plaza even more and get the smiles smiling, toes tapping, and lots of people singing along with some groovy retro folk-rock.
Thanks also to Jacob Rosenberg for his superb sonic skills as our mixing engineer, and major kudos to CBRE and Oakland Magazine, who sponsor the series and make every hump-day a lot more enjoyable.