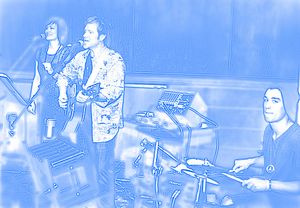 On Saturday, February 5, Soulfolk contributed music and mood-enhancement to a magical fundraising evening for Alameda's Franklin Elementary School.  The event took place at the "O Club"—the historic Officer's club on the Alameda Naval Air Station.
We were very impressed with the event committee's 60's-themed decorations, which included a large My-Generation's-Magical-Mystery-Tour bus, oversized Haight-Ashbury Street signs, massive floating flower-power symbols, and even a Peace Sign ice sculpture!   Guests dressed the part in tie-dye, sandals, peasant dresses and lots of hippie-dippy accessories.
Soulfolk revved up a repertoire consisting entirely of music from the 60s and early 70s to match the theme—everything from beatnik Donovan tunes, to the Lovin' Spoonful to Tommy James and one-hit wonder Scott Mackenzie's infamous "San Francisco (Be Sure to Wear Some Flowers in Your Hair)."  And Richard from "A Sound Explosion" helped with the sound.
For Bara and Robert, this show marked two major firsts:
1) Soulfolk's Bay Area debut
2) our first show featuring our son, Eli Cassard, on drums.
What a psychedelic night!  If you missed it, then you aren't experienced!