The energy was really crackling as the full Soulfolk lineup launched into 3+ hours of favorite tunes on a beautiful Thursday night last week.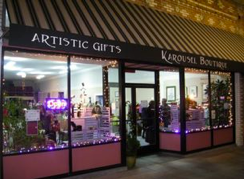 The Karousel Boutique is one of Alameda's newest art gallery-gatherings places—in the heart of historic Webster Street.  Guitarist/Vocalist Paul Manfrini traveled over 400 miles from Laguna Beach to share the stage with us, while Eli Cassard layed down a deep steady groove on drums.  Bara and I reveled in the fun and excitement of playing for a wonderfully appreciative new crowd with the full band.  We also debuted Soulfolk's new PA system, and we're happy to report it filled the large space with smooth sound, despite that the gallery was teeming with enthusiastic art and music appreciators.
Susan Grant, who manages the
Karousel
, made this an extra-special event with wonderful food and great energy.  Bill Williford from
Rock Wall Wines
oured tasty local wines and even joined in on percussion!  We've had an amazing welcome into the Bay Area community, and we're happy to be sharing our music with all these soulful folks!